a 17Km.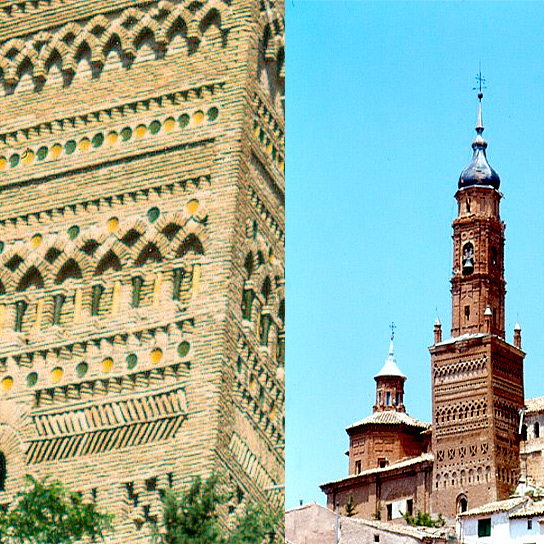 Mudéjar de Áteca
In Ateca, the work of Mudejar masons can be seen in the lower part of the tower of Santa María and the clock tower of Ateca, two constructions that form part of the urban landscape... In addition, the rivers Manubles and Piedra meet in Äteca.
a 20Km.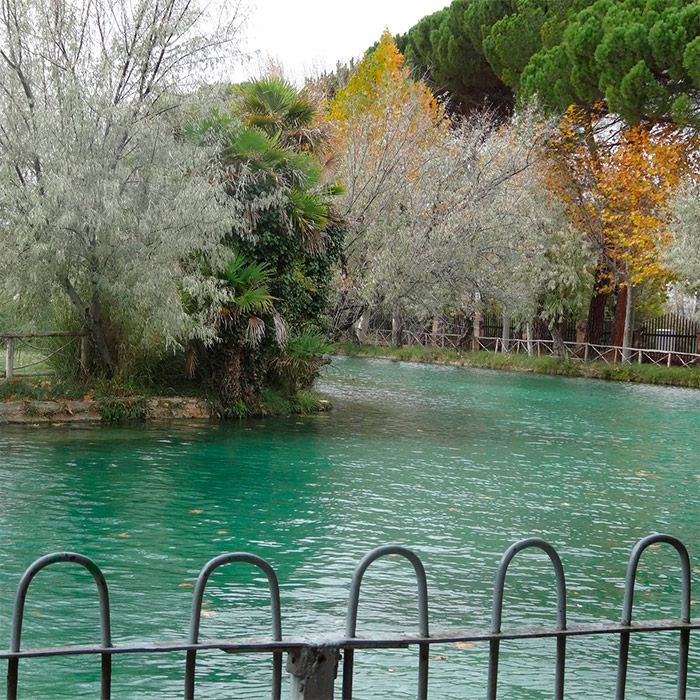 Balnearios de Alhama de Aragón
It is impossible to talk about Alhama de Aragón without mentioning the spas, a real economic driving force throughout the centuries, especially in the 19th and 20th centuries when they were at their most splendid.
a 23Km.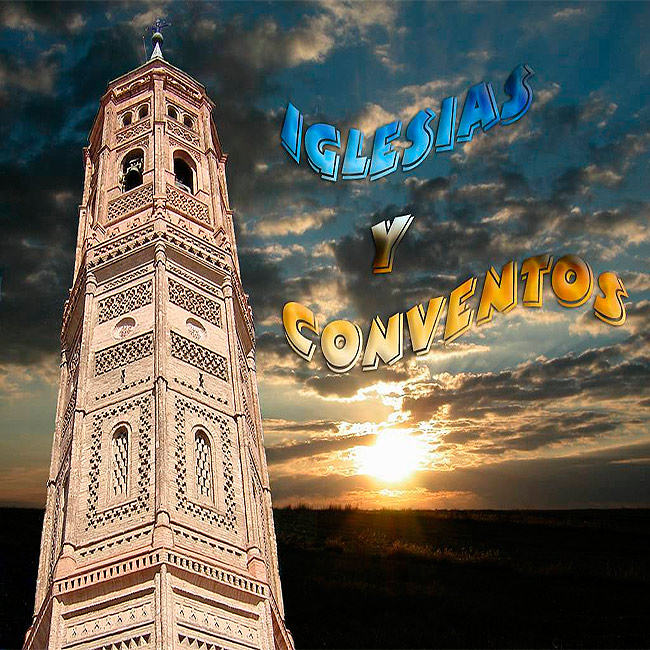 Mudéjar de Calatayud
Mudejar art and its Gothic touch stand out in the architecture of Calatayud, so much so that since 2001 it has been declared a World Heritage Site. Start to enjoy it in the Collegiate Church of Santa María La Mayor before seeing other temples.
a 32Km.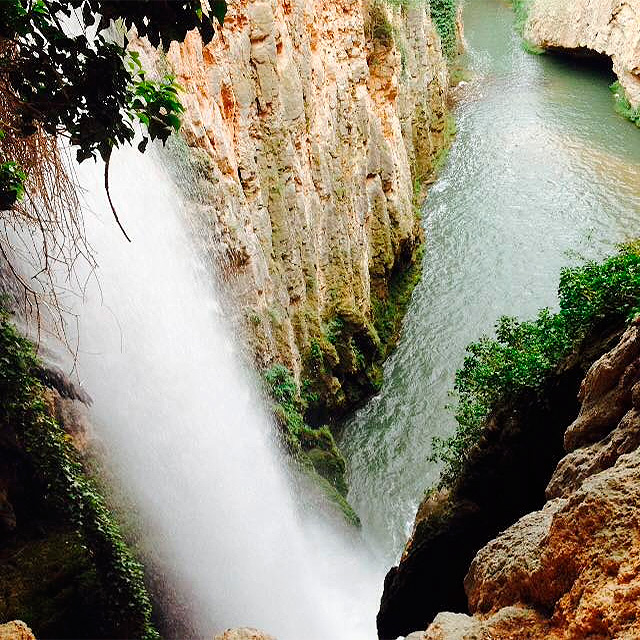 Monasterio de Piedra
A Natural Park of dreams, with numerous waterfalls, among which the Cola de Caballo stands out, with a height of almost 50 metres. The river Piedra has created a spectacular setting. There are also remains of the medieval monastery.
a 34Km.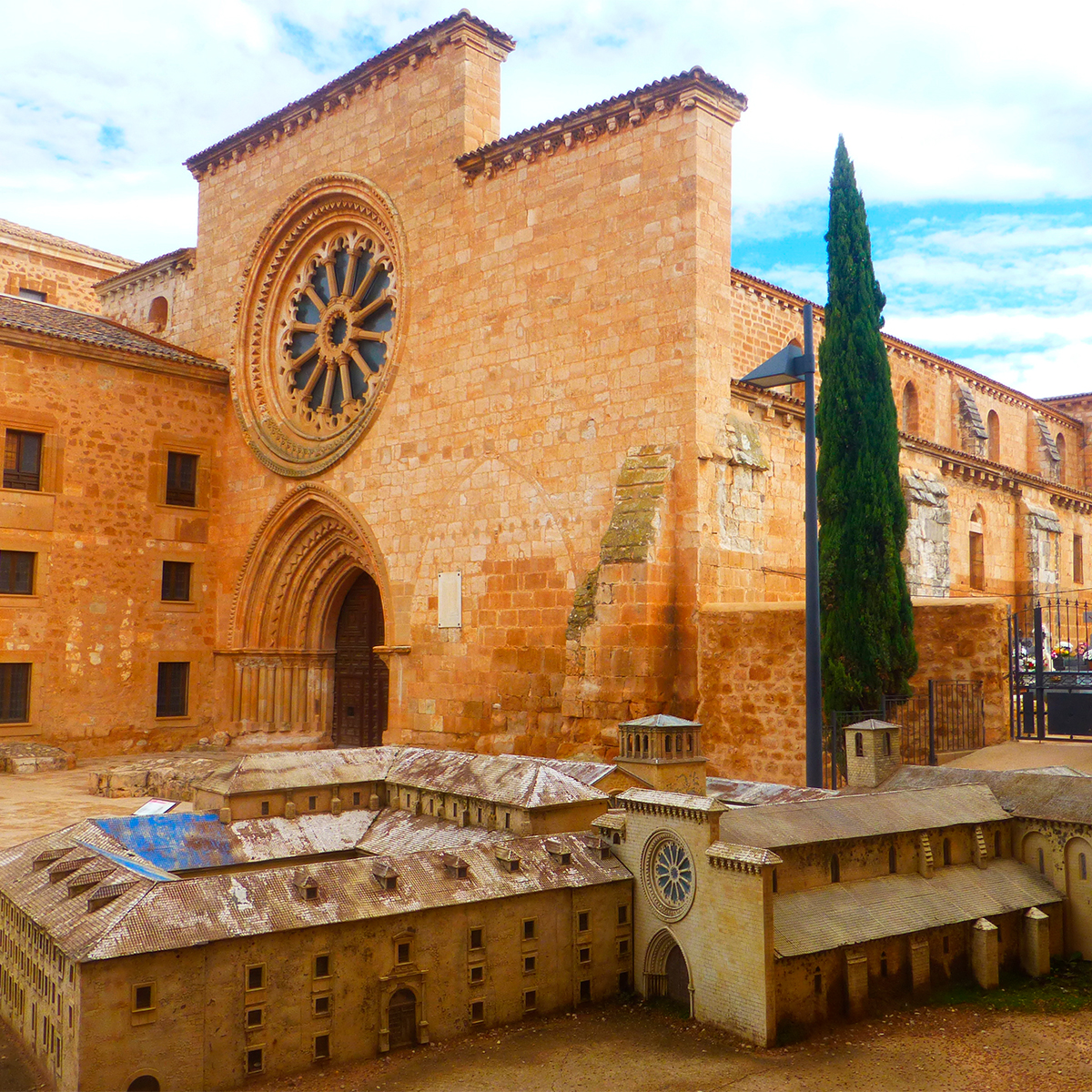 Monasterio de Sta Mª de Huerta
It is the only Cistercian monastery of Soria. It is proto gothic with Gothic, plateresque and neoclassical added. Orson Welles chose its refectory for some scenes of peals at midnight.
a 38Km.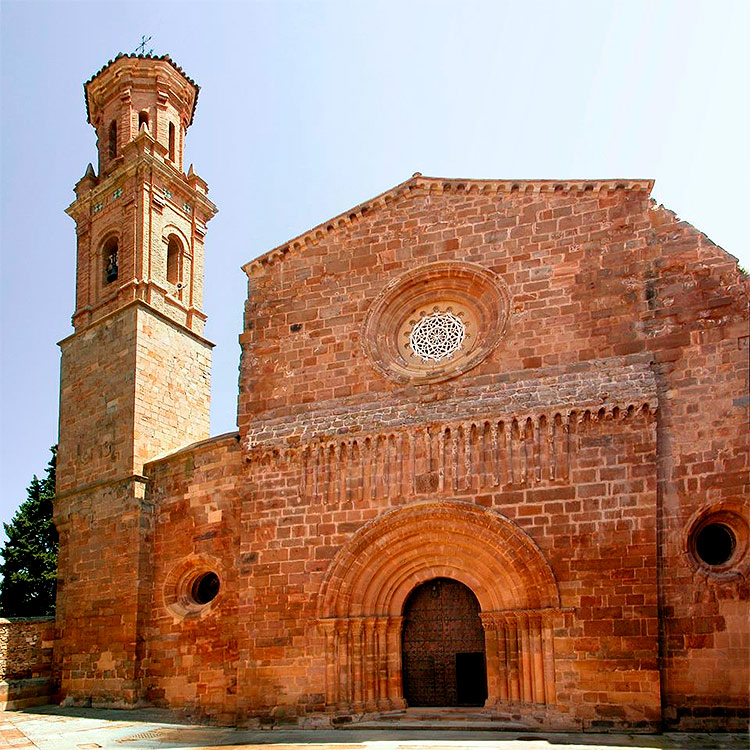 Monasterio de Veruela
The first Cistercian monastery in Aragon and protected by the massif of Moncayo. Stonemasons, carpenters, blacksmiths, local and foreign glassmakers came to Veruela to build this marvel in which Bécquer wrote "Cartas desde mi celda"
a 40Km.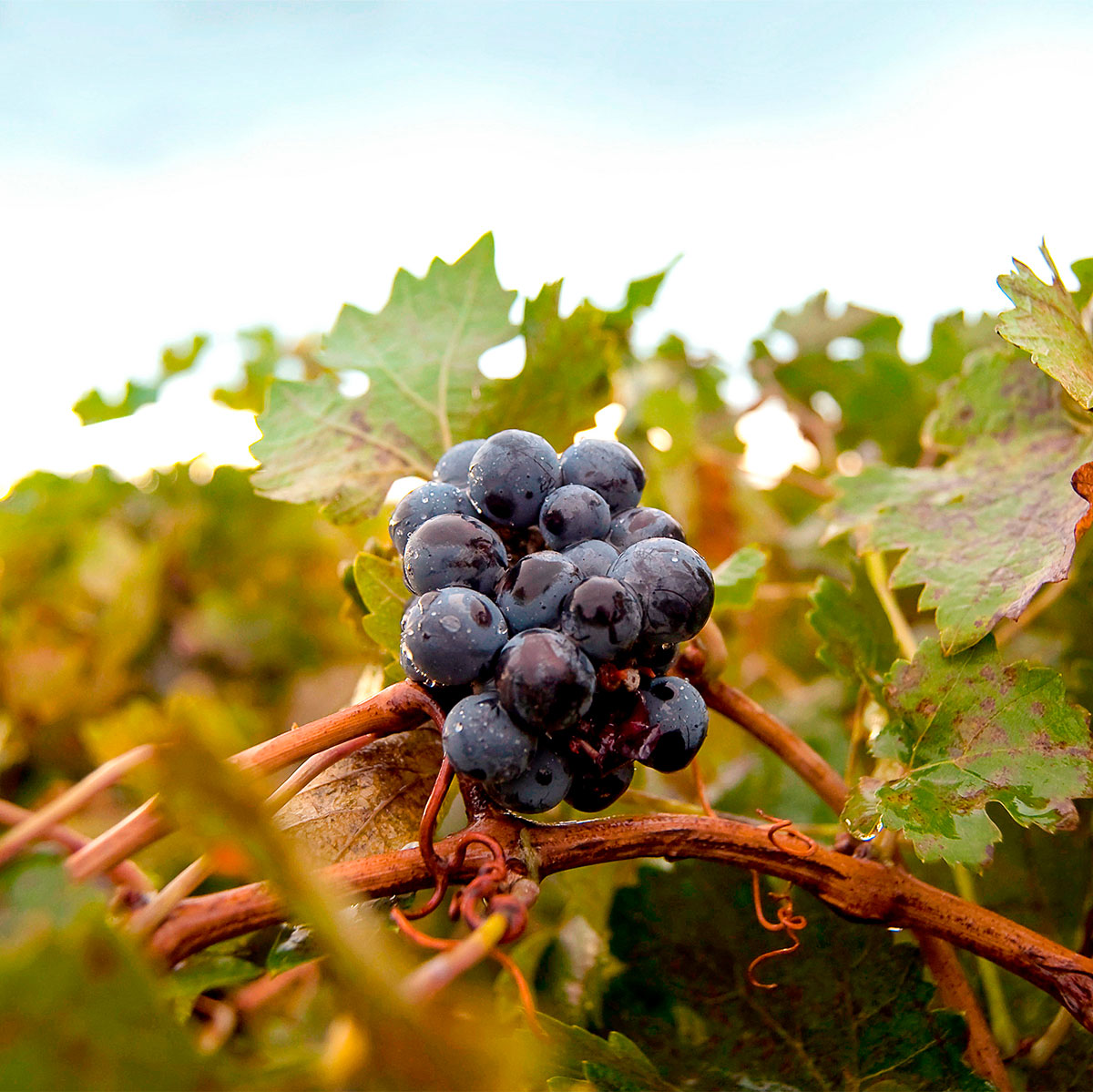 Miedes
Localidad de la comarca Comunidad de Calatayud, es famosa por sus vinos. Otros lugares de interés de la misma son la iglesia parroquial, el convento y la torre fortificada.
a 49Km.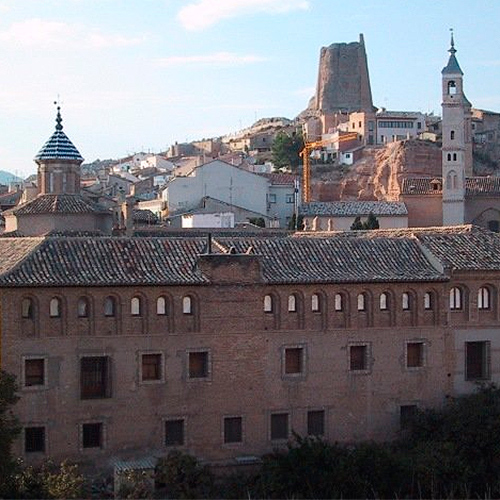 Borja
In addition to its excellent wines, there is a long list of monuments worth visiting. In Borja, a Historic-Artistic Site, you should take a quiet stroll through the town centre to enjoy its mansions, convents, palaces and churches.
a 50Km.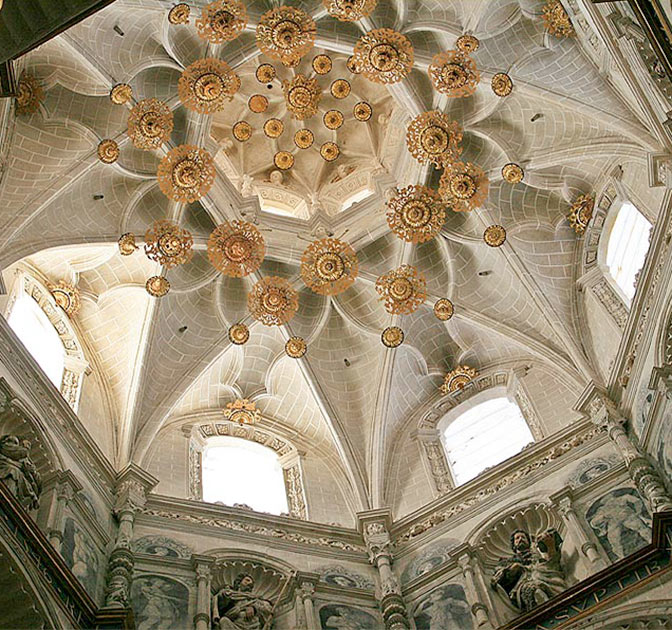 Tarazona
In the surroundings of Moncayo, the Historic-Artistic Site of Tarazona stands out with its Paco Martínez Soria Film Route, its Gothic-Mudejar-Renaissance cathedral, its wines, its narrow streets, its Renaissance town hall and so many other surprises.
a 55Km.
Daroca
Daroca exudes nobility and splendour. As we walk through its narrow streets we enjoy the beauty of its Romanesque churches, its centuries-old façades and the solemnity of the first Mudejar tower in Aragon. It is a beautiful Historic-Artistic Site.
a 56Km.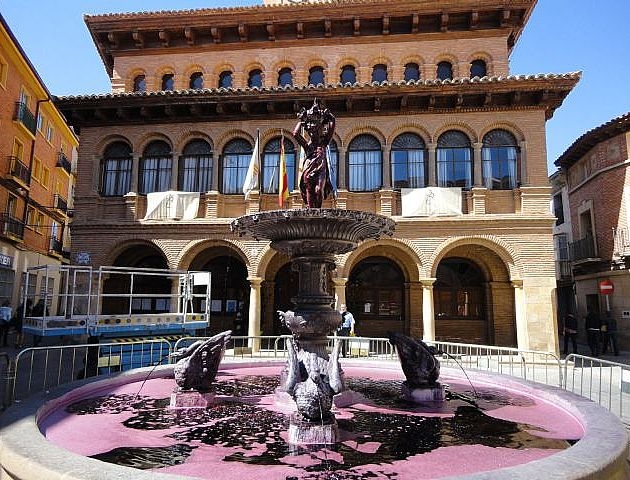 Cariñena
Lugar referente del vino, con millones de cepas y su famosa variedad Garnacha. Cariñena es la sede de la Denominación de Origen de su mismo nombre. No puedes perderte su Museo del Vino y la Fiesta de la Vendimia, además de otros atractivos de su casco.
a 57Km.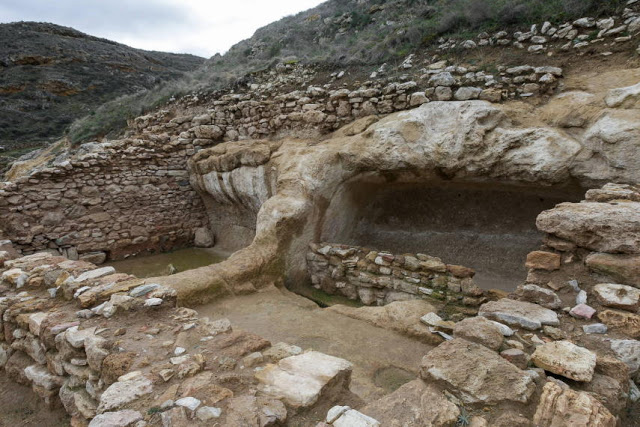 Ciudad Celtibera Contrebia Leucade
This is the name given to a city of Celtiberian origin whose history dates back to the first Iron Age. Its ruins have been preserved to the present day in relatively good condition. Its geographical location is in the southeast of La Rioja, Spain.
a 59Km.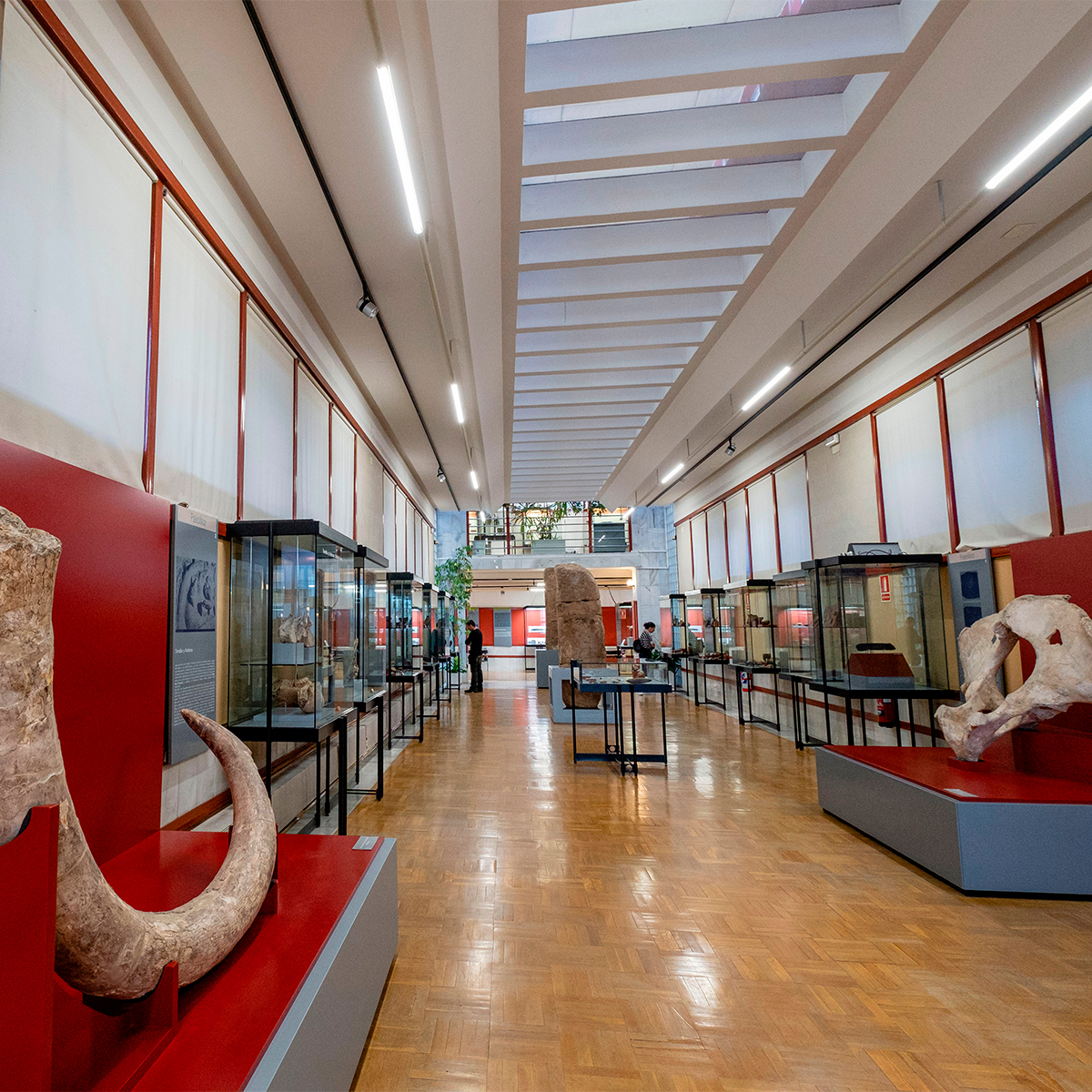 Museo Numantino
Summary of all paleontological and archaeological history of the province, it is located in front of the Dehesa Park and public parking. The Celtiberian remains stand out above everything, especially mythological ceramics from Numancia.
a 60Km.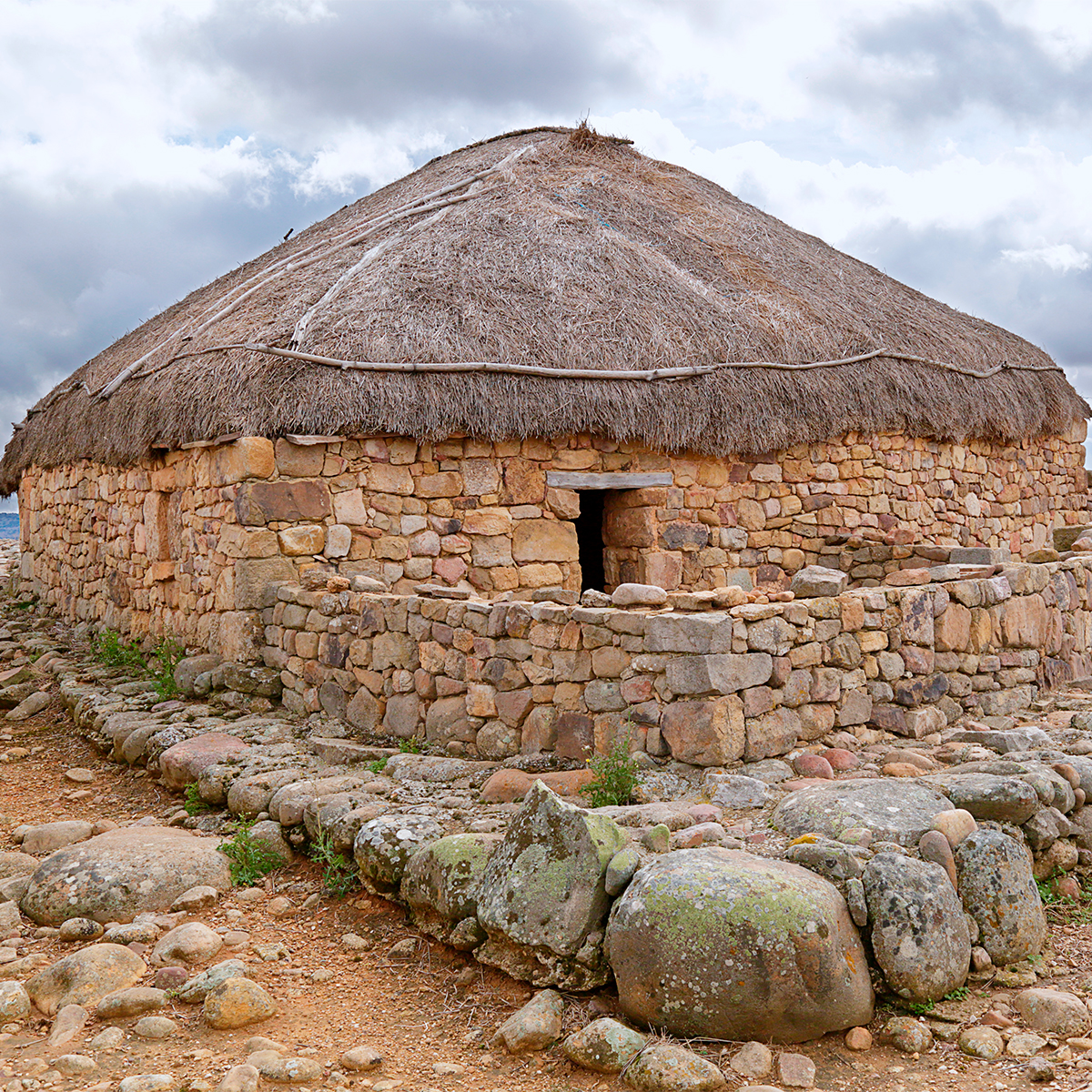 Numancia
Numancia resisted the Roman Empire in various Celt Iberian-Roman wars until they were burnt by Cornelius Scipio in 133 BC. Both houses have been rebuilt and there is a route to walk the streets and see the foundations. It is in Garray.
a 68Km.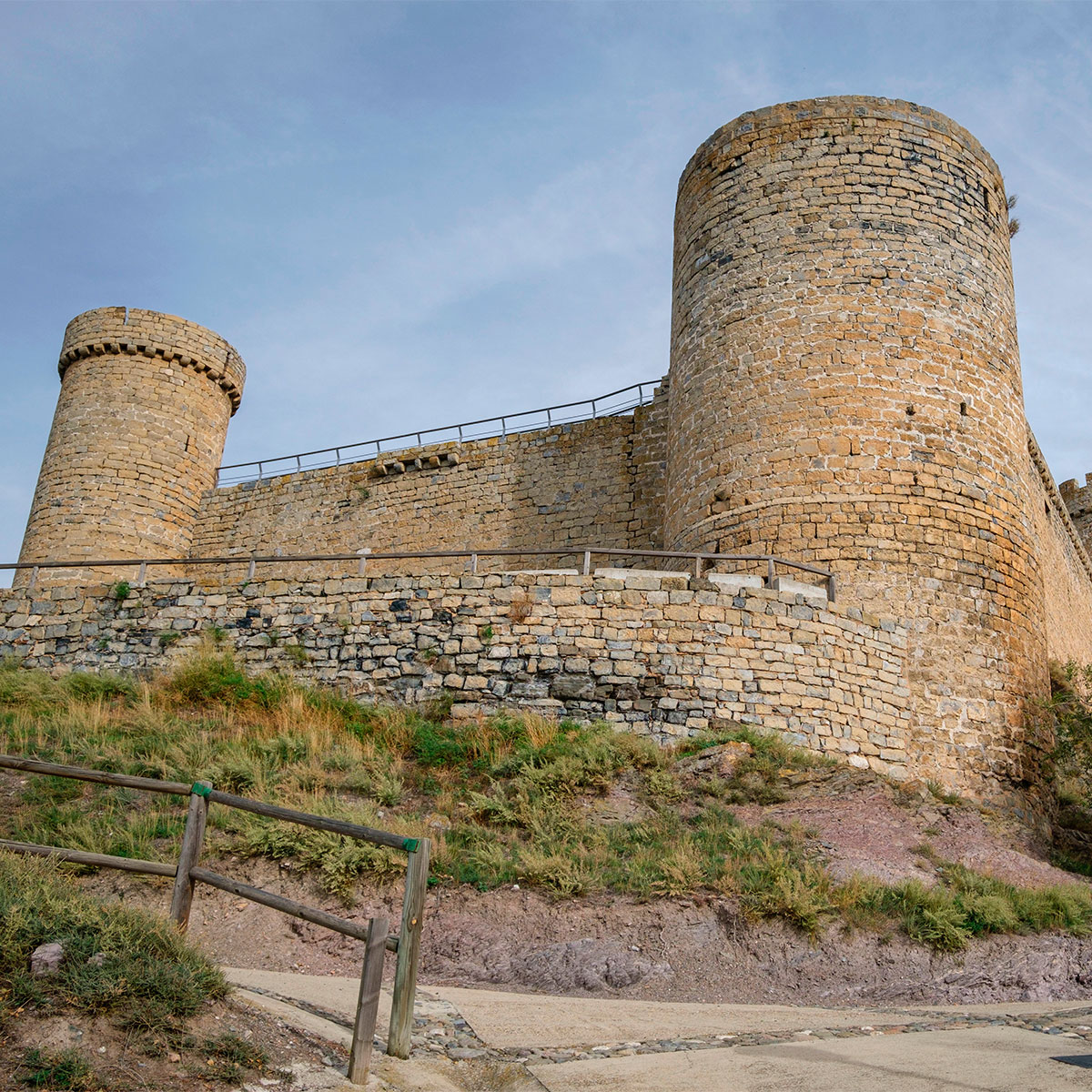 Castillo de Cornago
Once you arrive at Cornago the beauty of the assembly formed by the castle and the parish church surprise, but once in the village the reconstruction of homes and how is urbanized the interesting town is worth seeing.
a 69Km.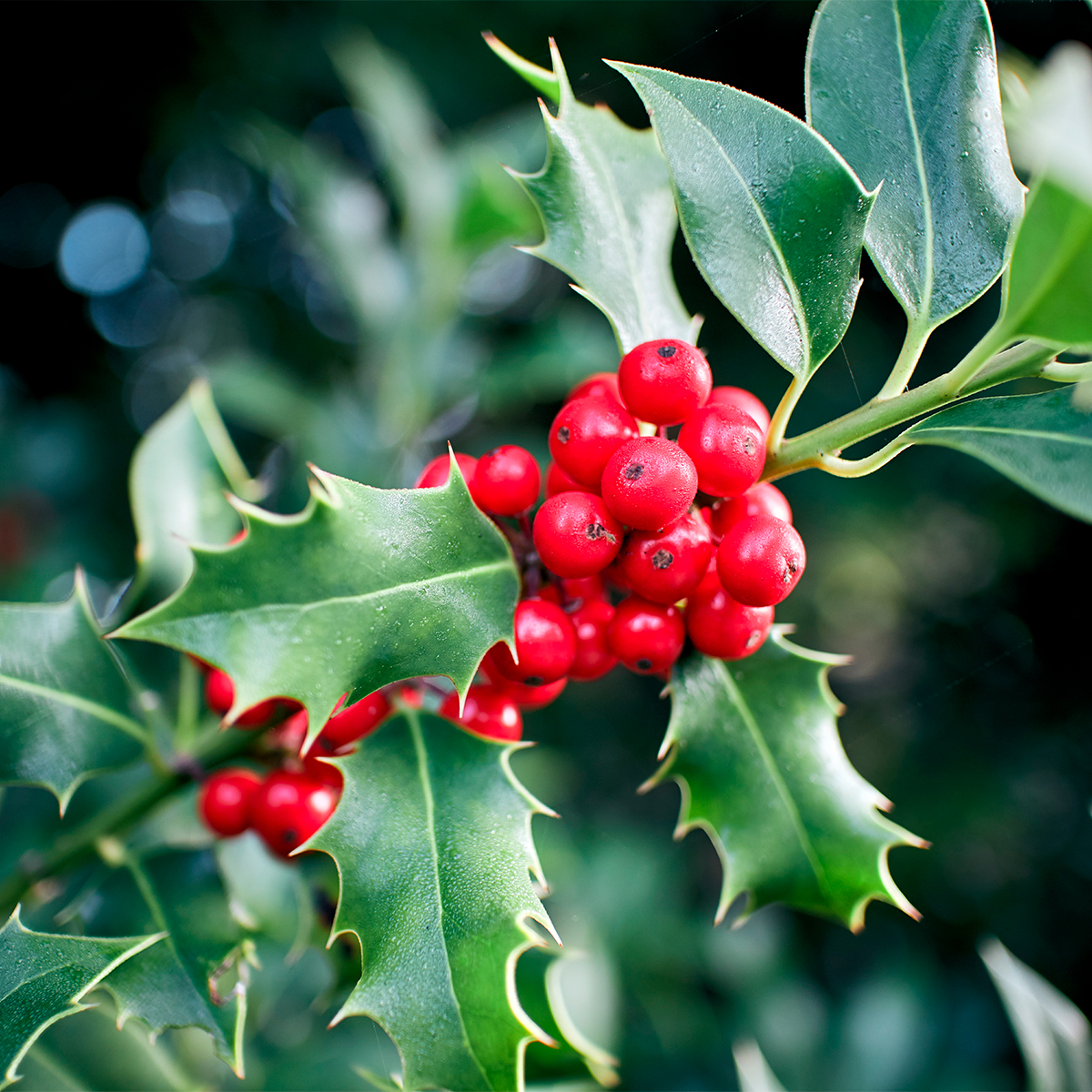 Acebal de Garagueta
One of the greatest pure holly trees of Spain between Torrearévalo and Arévalo de la Sierra, locality of this last one with its House of the Holly. ZEPA and LIC area, as well as a Nature Reserve. The last section is on rural road. The holly tree is protec
a 70Km.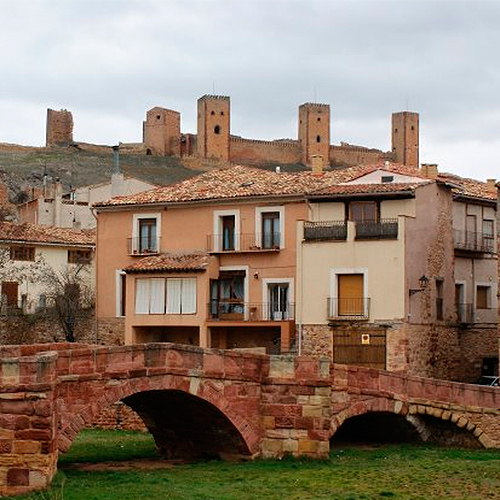 Castillo de Molina de Aragón
It was built in the twelfth century by the Kingdom of Aragon and is the largest and most expressive of all those saved today the province of Guadalajara. The origin of this great strength is very remote. Its situation was home to a Celt Iberian fort, fort
a 71Km.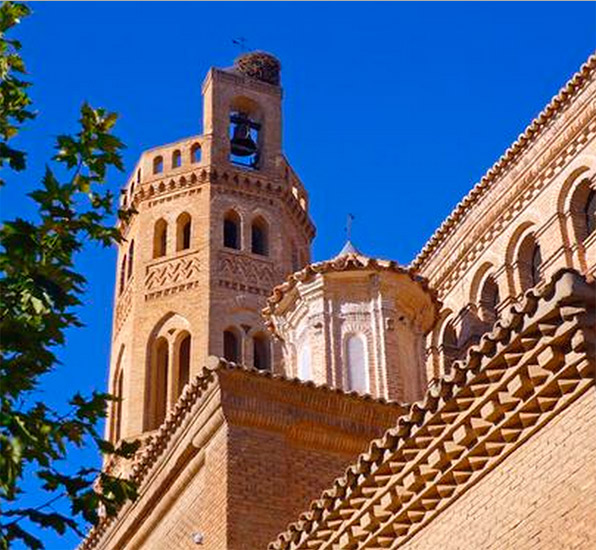 Alagón
There is not a brick, nook or cranny in Alagón that does not exude history and aromas of age. In this town, the centuries do not follow one after the other: they go hand in hand. Iberians, Romans, Muslims, Christians, Jews... they have all left their mark
a 76Km.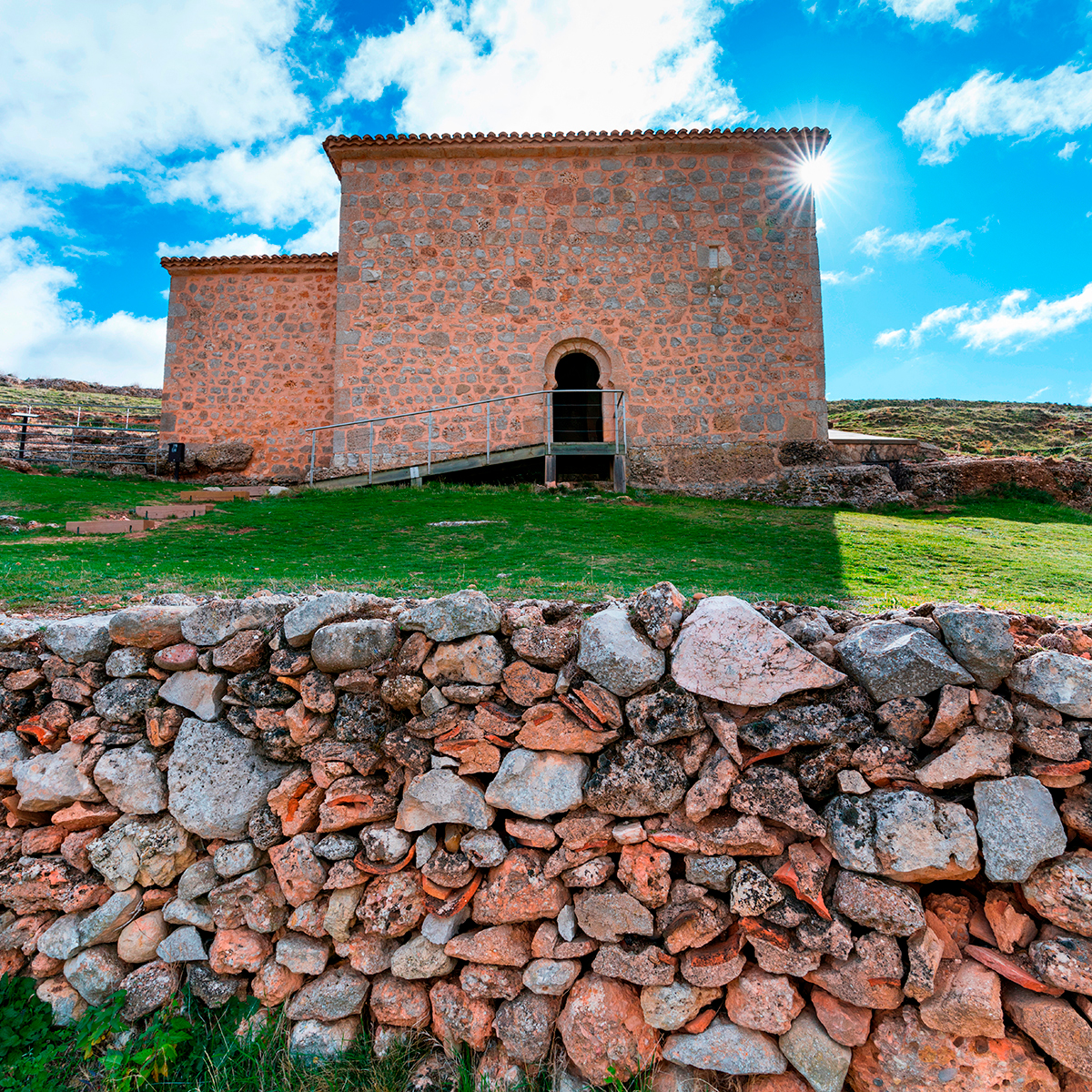 San Baudelio
The hermitage of Saint Baudelio, close to Berlanga de Duero, is awesome because it drives us to Orient with its palm trees and it surprises us with its Romanesque pictures and its air of mosque
a 77Km.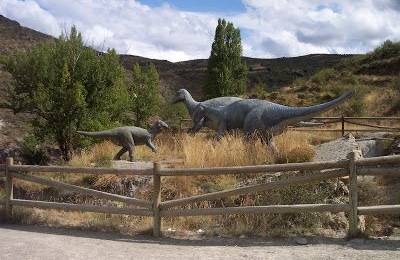 Yacimiento de Navalsaz
Contiene 138 huellas, la mayoría ornitópodas. Aquí se encuentra uno de los rastros de Iguanodon más grandes de La Rioja.
a 78Km.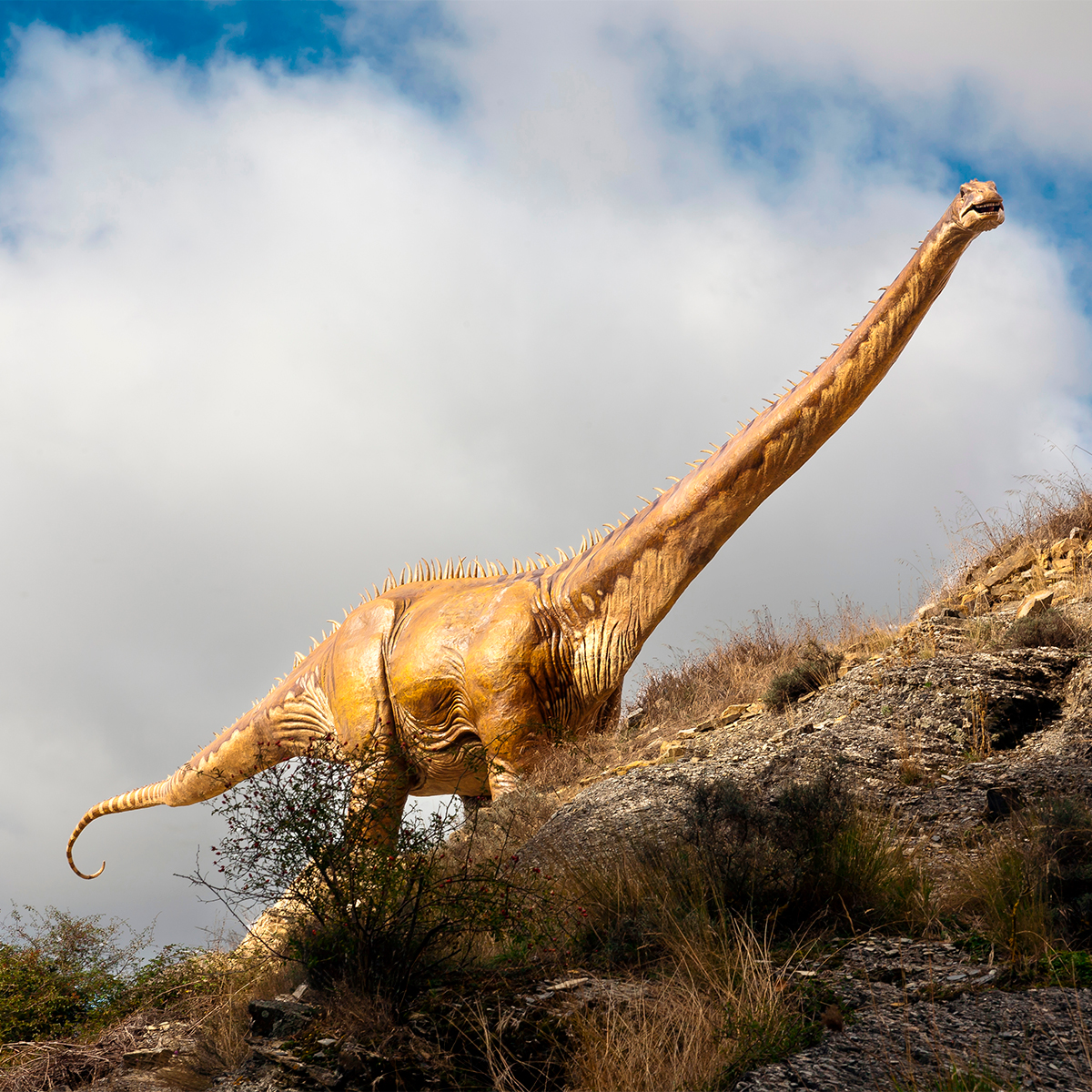 Ruta de las Icnitas
Stepping through the same places that the dinosaurs did hundreds of millions of years ago, is possible in the Highlands of Soria. There is a Paleontological Room in Villar del Río and huge sculptures of various dinosaurs in various localities.
a 78Km.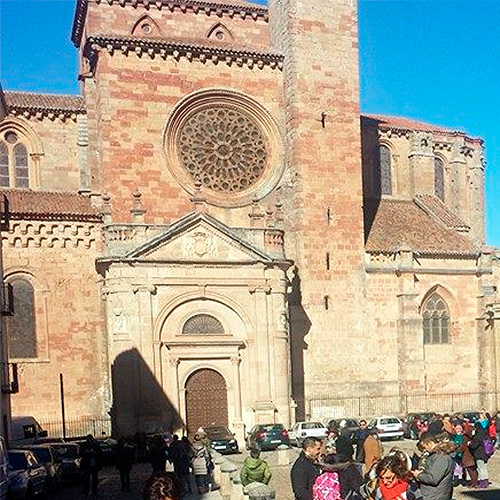 Catedral de Sigüenza
Situated on the left bank of the river Henares, perched on a gentle slope, Siguenza leads the valley from the remotest antiquity. The Cathedral, begun in 1130 at the request of Bishop Bernard of Agen, is Romanesque and later is developed...
a 82Km.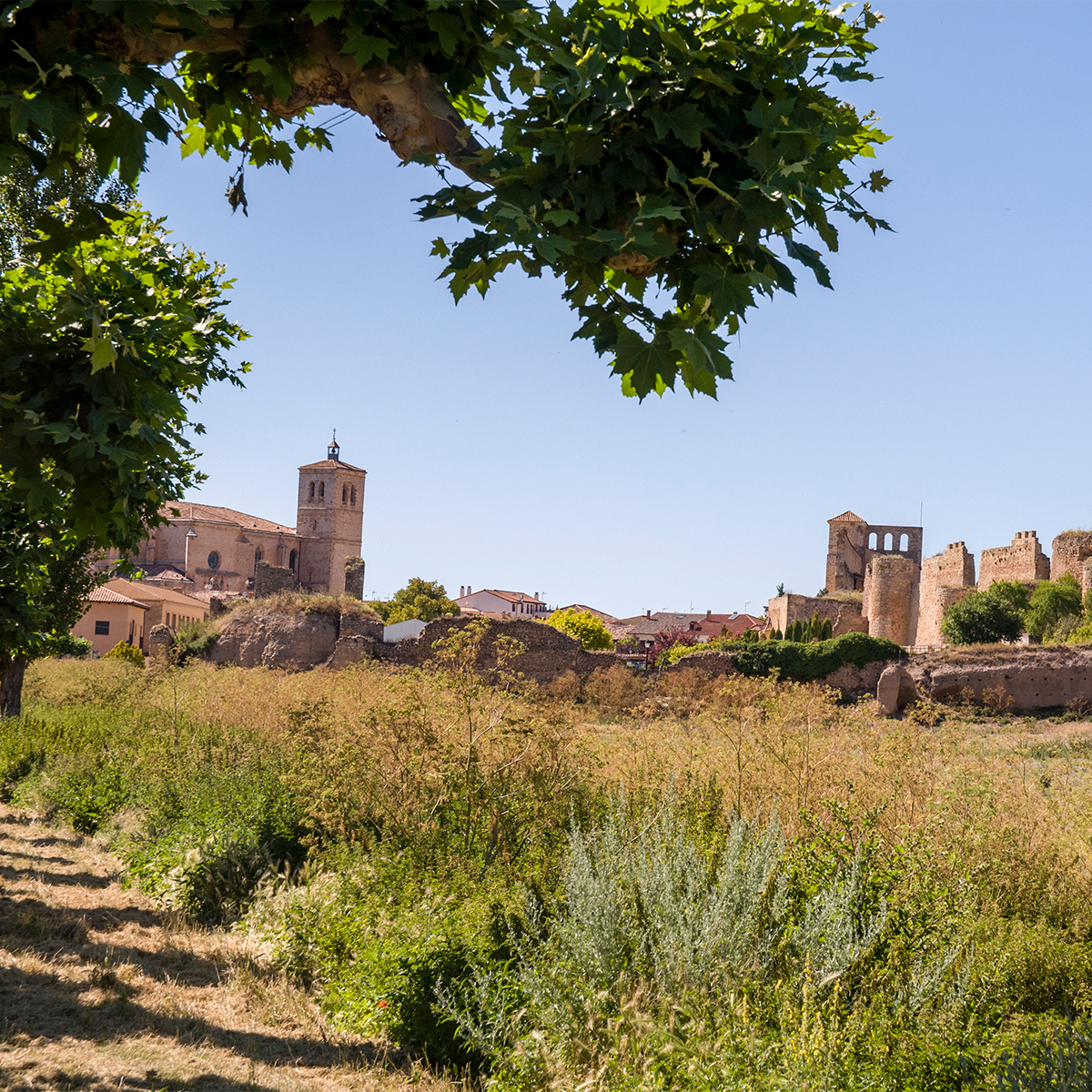 Castillo de Berlanga de Duero
Renaissance castle defended by a wall of the XII century, in which Richard Lester filmed part of The Three Musketeers. From the top you can see the layout of this medieval town and its Gothic collegiate .Nearby there are anthropomorphic tombs.
a 82Km.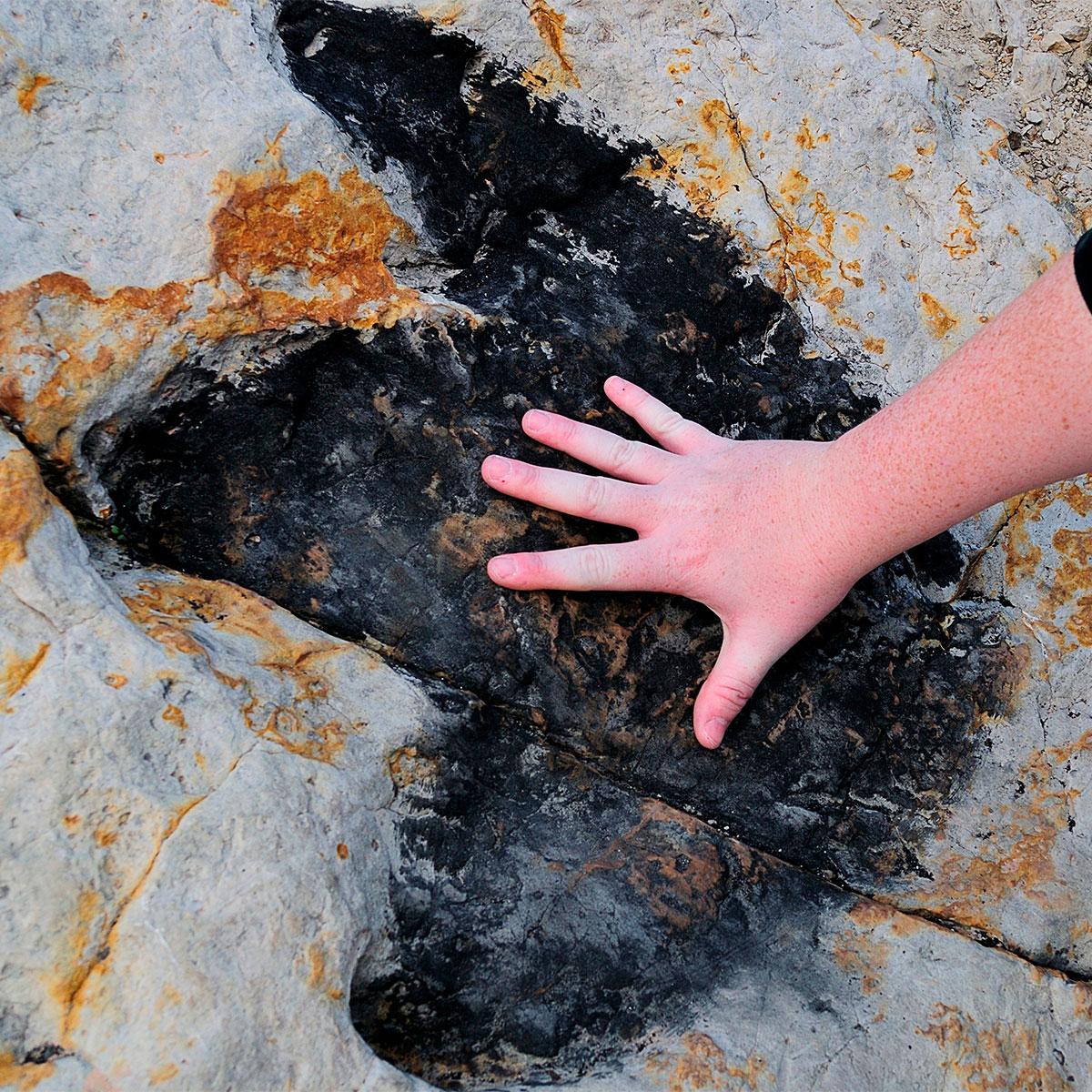 Ruta de las Icnitas
In the municipality term of Enciso there are cataloged 1,400 dinosaur footprints. It is the starting point for visiting the footprints, from the Paleontological Center. In the track from Enciso to Navalsaz there are total of 7 sites that linked…
a 82Km.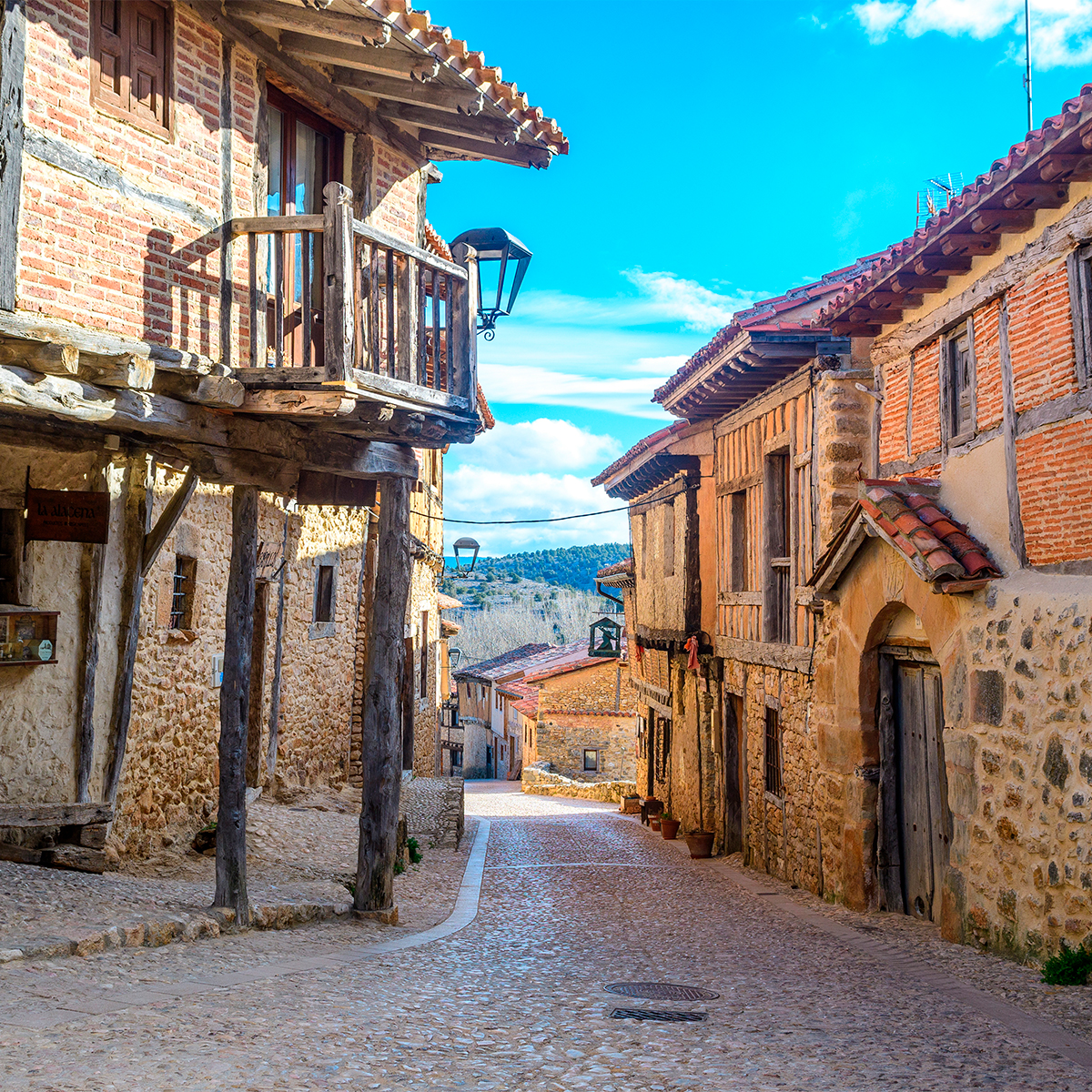 Calatañazor
A Historical Artistic Group. Medieval town with its medieval flavor through its paving streets, typical houses, castle tower and city walls. So it has been stage in several films, excelling Chimes at Midnight of the great Orson Welles.
a 83Km.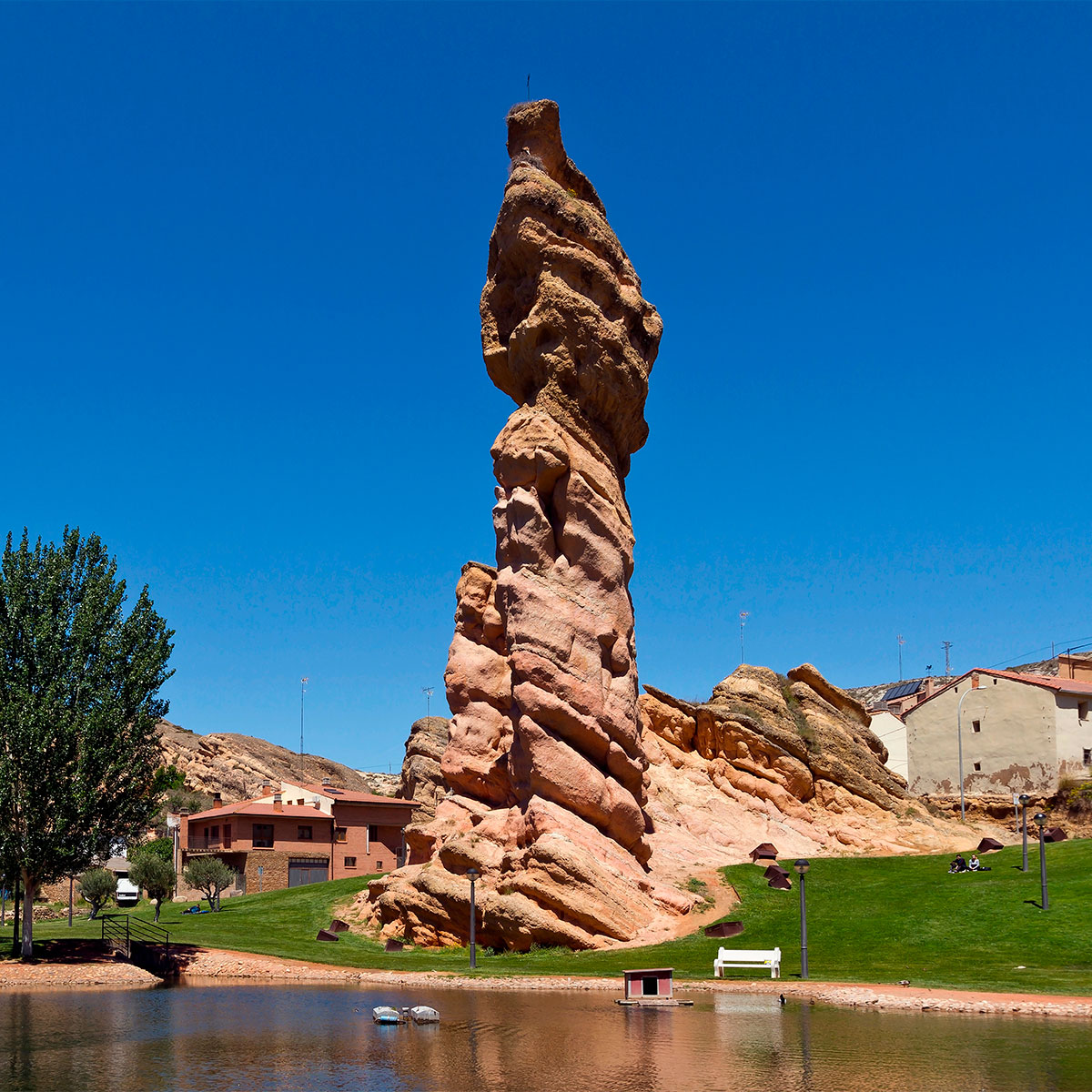 Los Picuezos - Autol
We cannot mention Autol, without reference to the natural monument that signifies the true symbol of the city -The Picuezos- o Picueza and Picuezo as they are also known. The wind, water and erosion, in a work of centuries,..
a 84Km.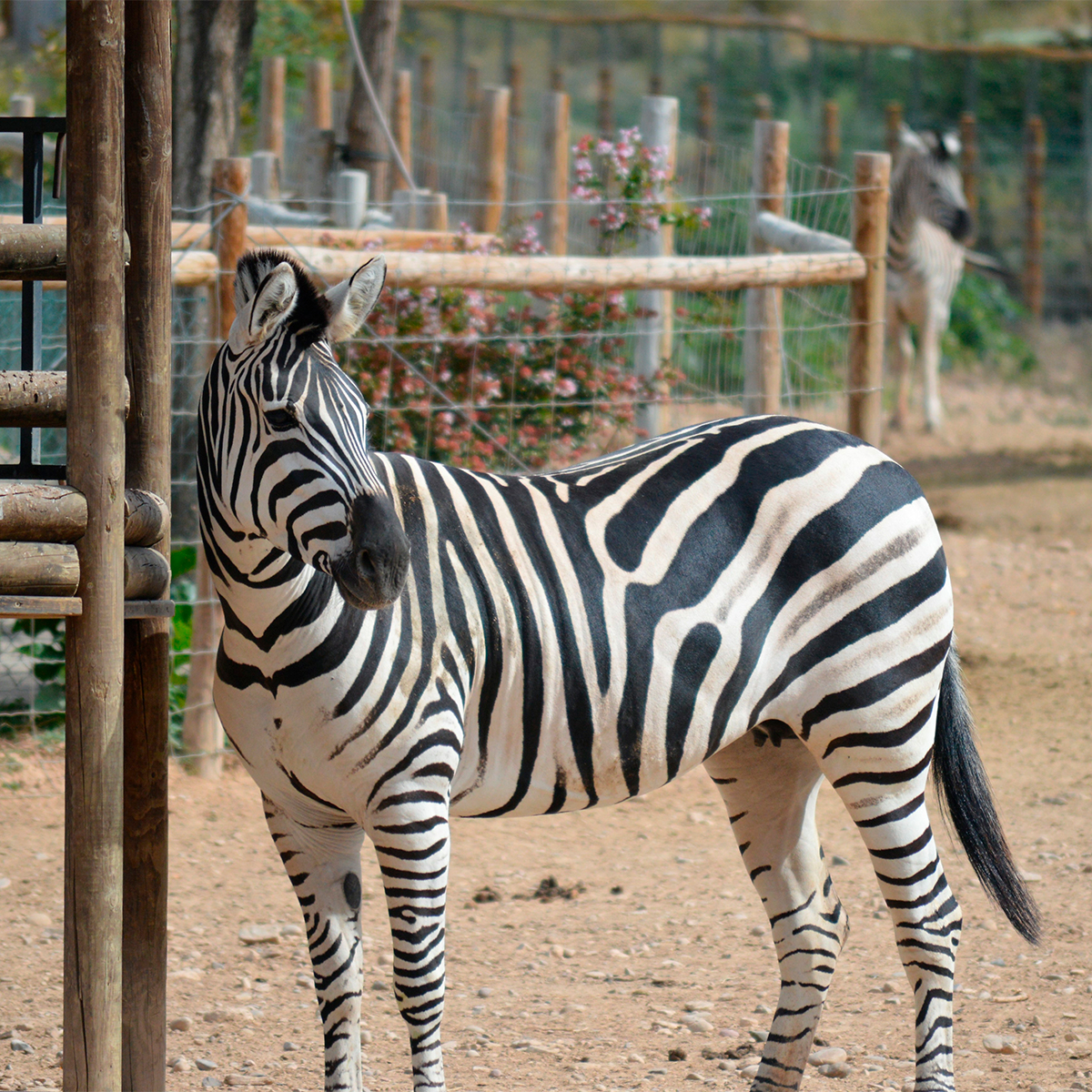 Senda Viva
Located next to the Bardenas of Navarra is a Biosphere Reserve by UNESCO, you can enjoy a fun day with rides, a sensational spectacle of raptors and surprise activities that wait for you around the park.
a 86Km.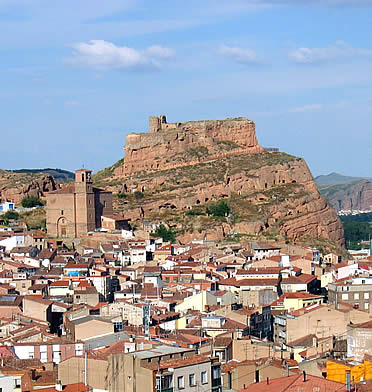 Arnedo
Situado en la comarca de la Rioja Baja. Está bañada por el río Cidacos (afluente del Ebro). La economía depende fundamentalmente de la industria del calzado. Su nombre proviene posiblemente del latín Arenetum, colectivo de arena.
a 86Km.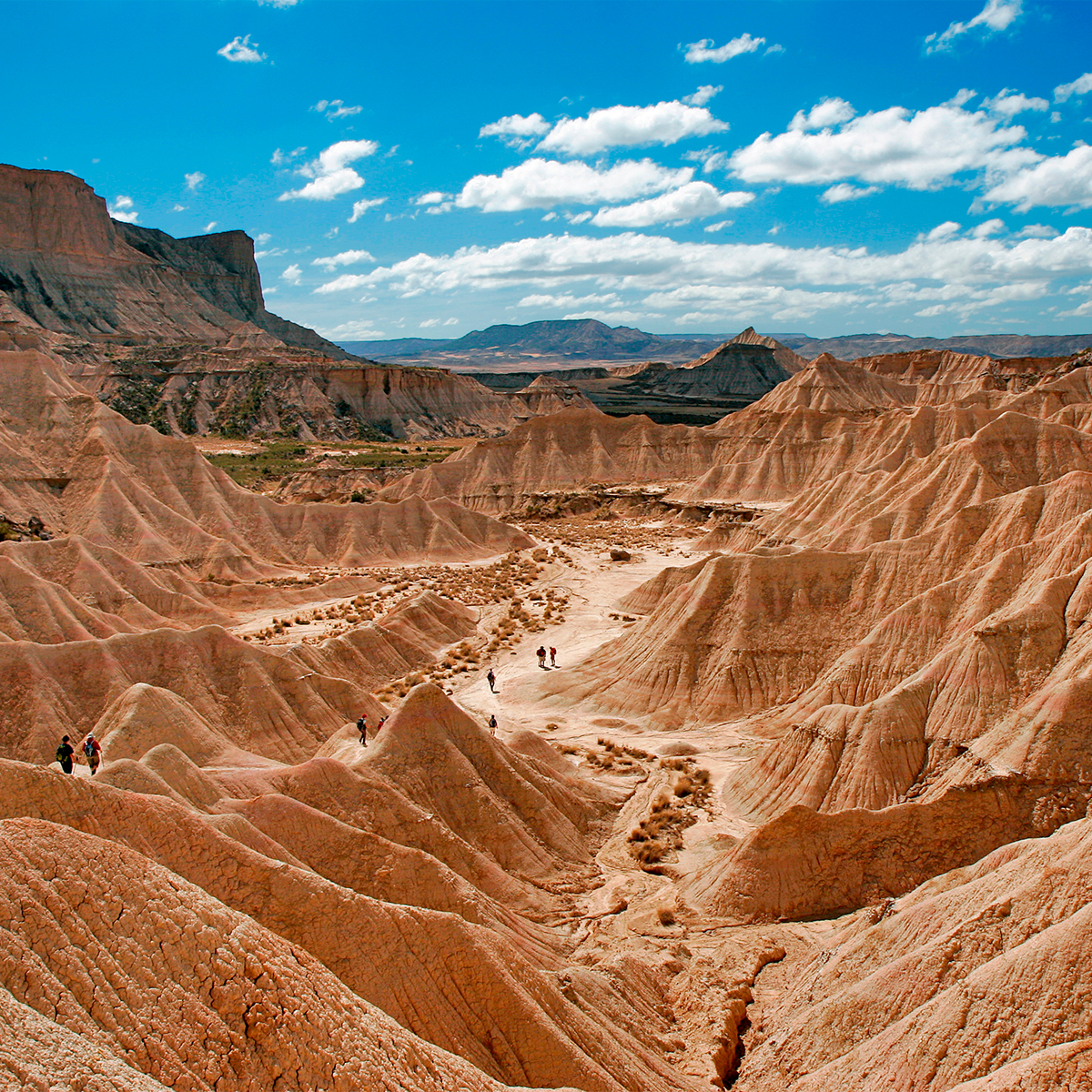 Parque Natural Bardenas Reales
After its naked and inhospitable appearance, the Royal Bardenas keep big natural and scenic values that each year attracts to thousands of people and its territory has been declared Reserve of the Biosphere by UNESCO.
a 87Km.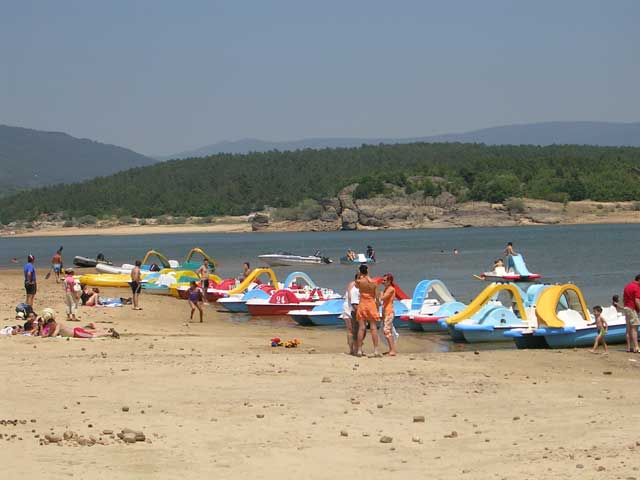 Playa Pita (Embalse de La Cuerda del Pozo)
Este hermoso paisaje rodeado de montañas, pinares y pueblos pintorescos, es uno de los lugares que no debes perderte en tu visita a Soria. Desde practicar deportes acuáticos, hasta disfrutar de una jornada de playa, aquí todo es posible.
a 87Km.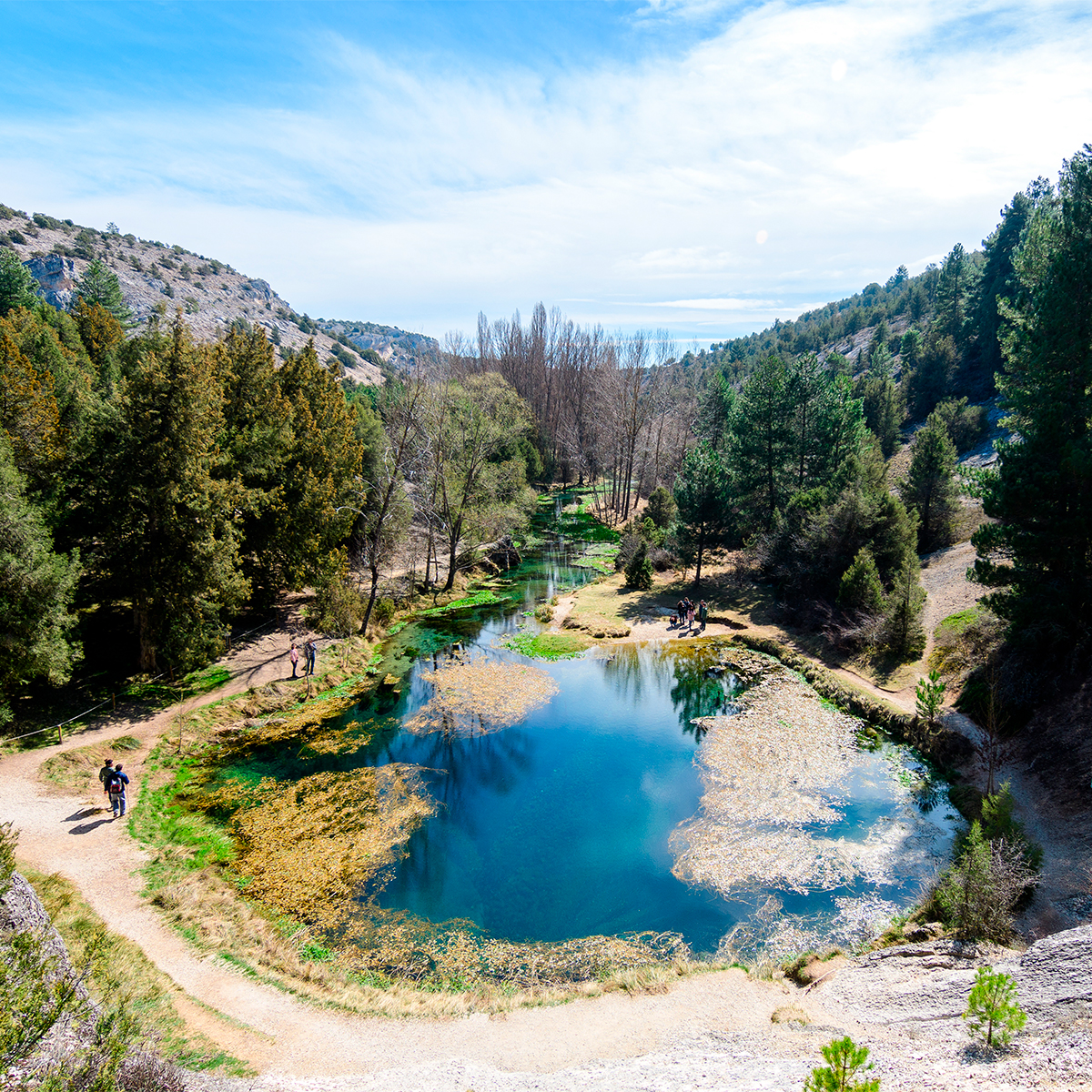 Monumento Natural La Fuentona
At the end of the Gorge of Abión is it's the birth of La Fuentona guarded by vultures and other raptors, surrounded by a pine and some juniper and oak. It is Natural Monument and you cannot have a bath in it. The best access is by Muriel de la Fuente.
a 88Km.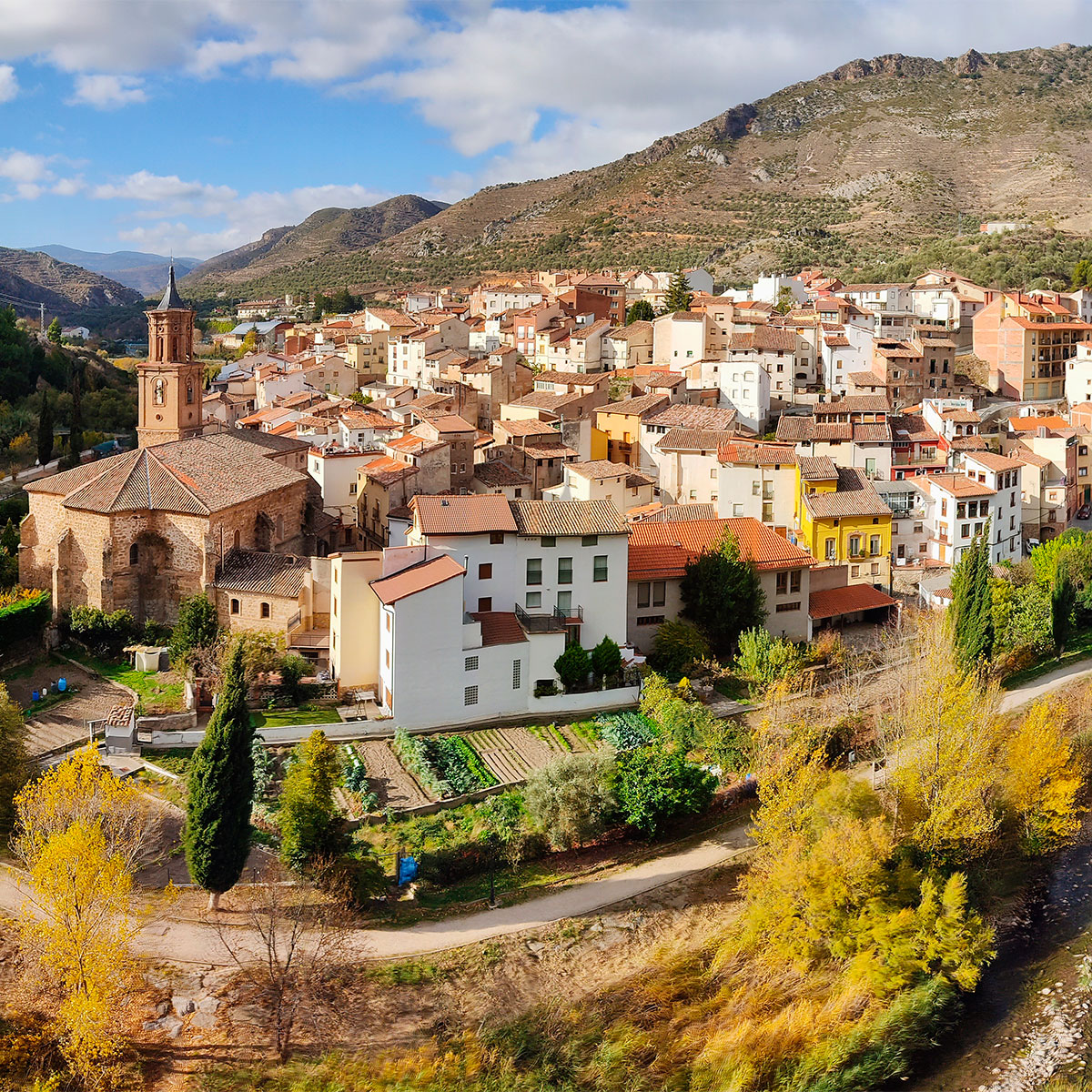 Alto Valle del Cidacos - Arnedillo
The High Valley Cidacos is in the town of Arnedillo, its finest expression. In this beautiful place we can enjoy breathtaking landscapes and world famous hot springs. The history, with its castle and monuments and ...